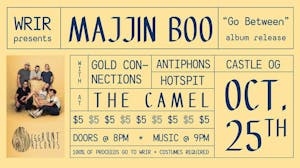 Majjin Boo
Gold Connections, Antiphons, castle og, Hotspit
$5.00
Tickets At The Door
.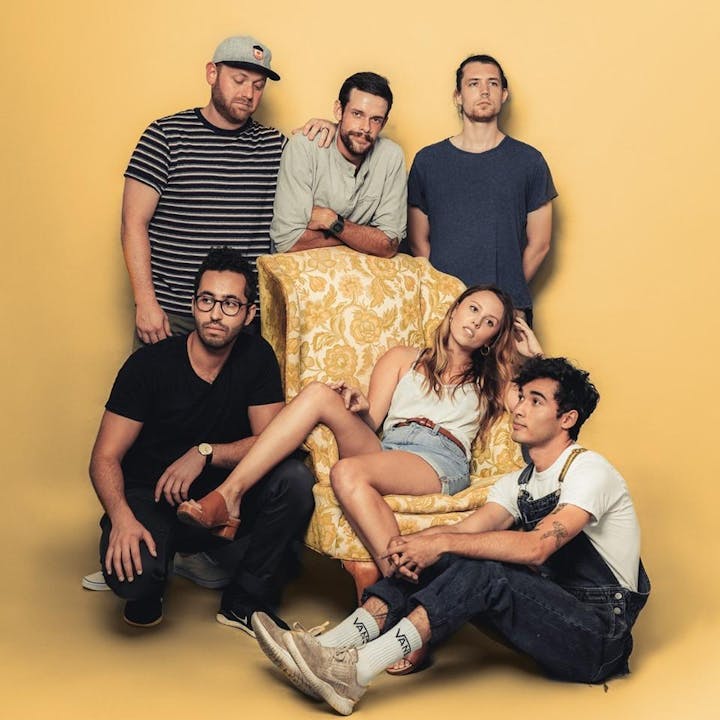 MAJJIN BOO
Majjin Boo is a six-piece rock band from Richmond, VA that formed around the songs and voice of Frank Roberts. When Roberts met lead guitarist Zavi Harman through a mutual friend in 2015, they started a three-piece band that experimented with layering overdriven sounds, unorthodox tempos and dreamy soundscapes. These songs described an impossible longing, an alienation from the world and an almost inconsolable feeling of loneliness. Both knew right away that these themes would only be amplified and developed with Harman's keen ear for guitar layering, composition and focus on dynamics.
Shortly thereafter, Megan Paul, a musician and friend of Harman's from high school joined the group. Her impassioned harmonies and singer/songwriter roots complement and cut through Roberts' raw, untethered vocals, and weave in a key addictive pop element. In 2017, the band met drummer Jesse Marcus, who soon became a core group member by virtue of his skillful playing and visceral energy on stage and in the studio. On bass, Jono Stewart embodies the dependable, structural backbone for each song. Finally in 2018, the band connected with Hicham Benhallam whose keyboard and synthesizer parts unify and distinguish the Majjin Boo sound.
The band's first recorded album, "Go Between," conscientiously traces the development of Roberts' and Harman's interests and progress as musicians and writers. This compilation of tracks draws from a wide spectrum of influences including Manchester Orchestra, Tera Melos, Toe, Phoebe Bridgers, Death Cab for Cutie and Modest Mouse. "Go Between" is a synthesis of the work that impacted and inspired both Roberts and Harman, and a desire to break new ground in the indie rock world. With vivid lyrics and compelling instrumentals, "Go Between," is a genre-defying record that creates an obscure yet eerily nostalgic musical experience, like tuning in to the faint transmissions of past lives.
Majjin Boo has shared the stage with national touring acts such as Charly Bliss, And The Kids, The Mimicking Birds, Little Tybee, OMNI, Mdou Moctar, Madeline Kenney and many others. The band has also played music festivals like Good Day RVA in Richmond, VA, and MACROCK in Harrisonburg, VA. In November of 2019, Majjin Boo will release their first full-length album, "Go Between," through Egghunt Records based in Richmond, VA. "Go Between" was recorded by Michael Hegner (Julien Baker, Natalie Prass), mixed by renowned producer Mike Sapone (Taking Back Sunday, Brand New) and mastered by Brett Romnes (Brand New, Prawn).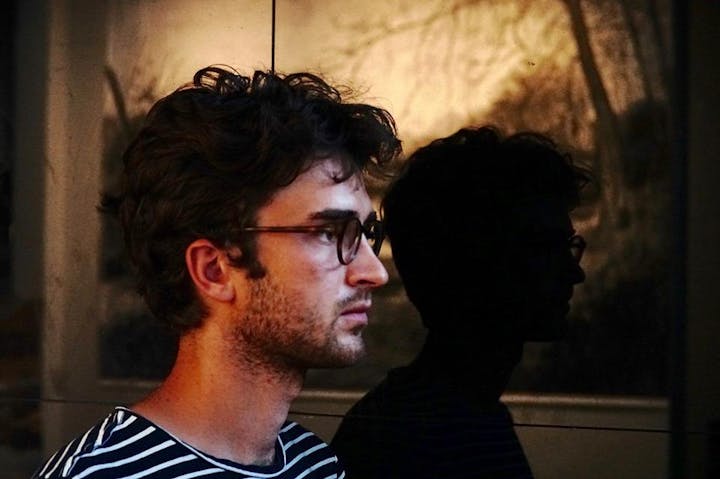 GOLD CONNECTIONS
After a debut release in 2017 on Fat Possum, Will Marsh has at last introduced the world to a Gold Connections full length, Popular Fiction. Their upcoming EP, Like A Shadow, via Egghunt Records. We have a word for the kind of music Will makes, flush with heady, youthful firstness and stepped in the worn warmth of folk and blues. We call it timeless. These songs are a hundred years old, and they are brand new. Echoes of the Harry Smith anthology brush up against Big Star, Sonic Youth, R.E.M.. When Will relates the facts of his life – his first loves, his fights, his late nights in hazy college bars – he calls on the Ancient Greek mythos, or the fiery, retributive bits of the Book of Genesis.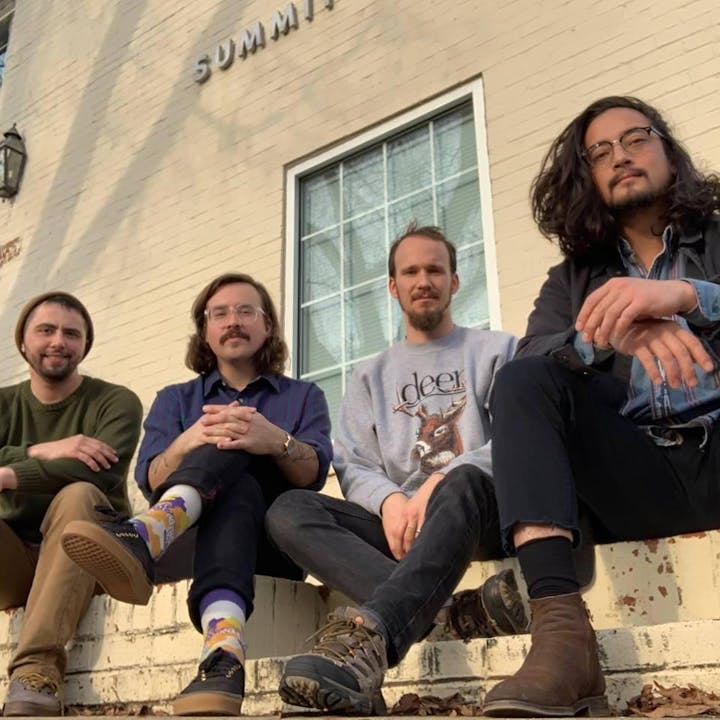 ANTIPHONS
Antiphons is a half-rock band from Richmond, VA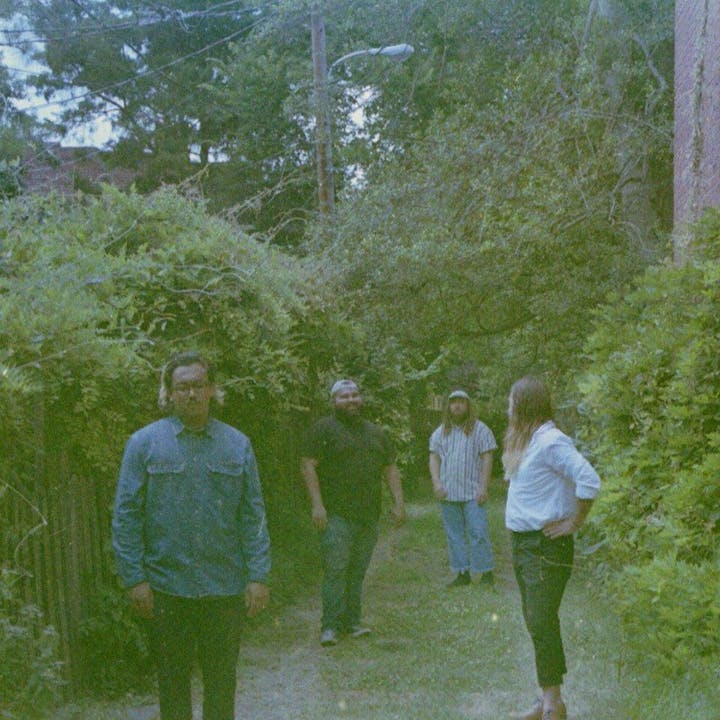 CASTLE OG
Indie R&B with sweet riffs that will make you tears in the club.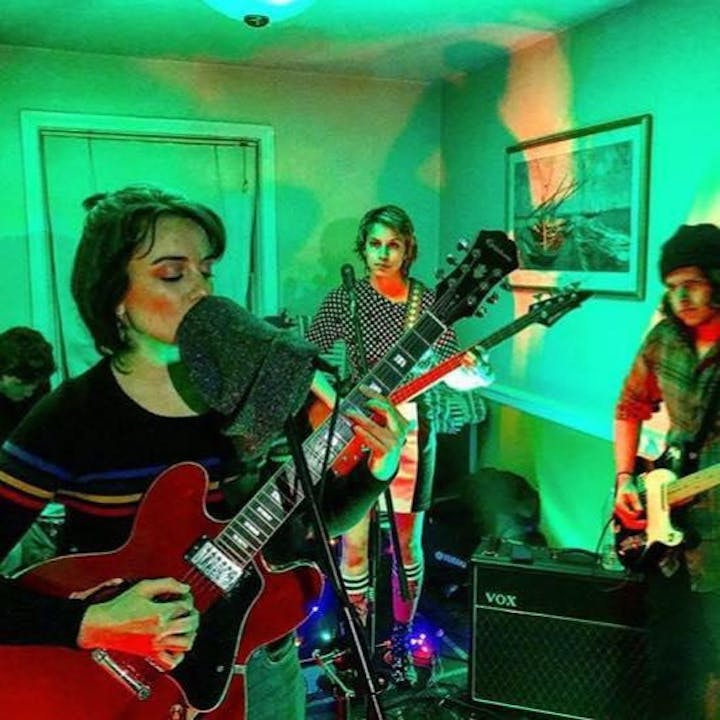 HOTSPIT
Richmond's favorite sweetheart angel bbs. Songs for the heart.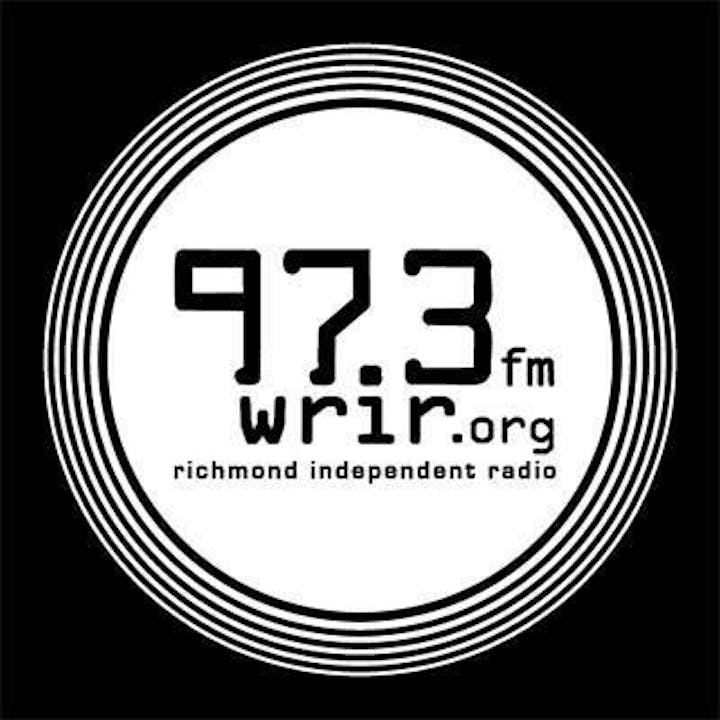 ALL PROCEEDS GO TO RICHMOND'S INDEPENDENT RADIO LEADER, WRIR!!!

Venue Information:
The Camel
1621 W Broad St
Richmond, VA